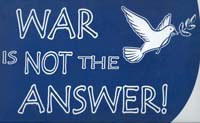 Our meeting for worship is unprogrammed, which means that we gather in prayerful silence with neither clergy nor liturgy. The faith of Friends rests on the belief that each of us has the capacity to receive the word of God, to do the work of God, and to be ministers to each other. Stillness is an integral part of the meeting for worship as all of us try to "center down" in the gathering silence and to be open to the living word of God. Listening together, we experience ourselves and each other as spirit-filled and spirit-led.
Any who feel moved by spirit to share the "Light" given to them may rise and speak. The form of vocal ministry in meeting for worship may vary: a prayer, a spoken message, a song, a spoken passage from the Bible or other source of inspiration. Afterwards the silence should resume. Speaking in meeting is not an occasion for dialogue or debate, and, normally, a person does not speak more than once during the meeting. We try to enter each meeting for worship resolving neither to speak nor not to speak, but to await the inspiration that grows out of the silence.
Meeting is closed when a designated Friend shakes hands with and welcomes the neighbors sitting nearest. Others shake hands with those nearby, and meeting is officially ended. Our Meeting has an additional short period of "after thoughts", during which additional messages in the spirit of worship may be shared. We then share joys and concerns; greet visitors and ask them to introduce themselves; and make announcements. This is followed by light refreshment.
For children's activities, please see the webpage regarding First Day School.
You will say, Christ saith this, and the apostles say this; but what canst thou say? Art thou a child of Light and hast walked in the Light, and what thou speakest is it inwardly from God?
George Fox
Quakers attempt to live by our testimonies: integrity, simplicity, peace, justice and equality. We try to demonstrate these testimonies in our daily lives. Much of our ministry is carried out within our families, places of work and through our community involvements. Sometimes we succeed in advancing our testimonies. But, many times we feel we have a long way to go to bring our beliefs and our daily practices together.
Not all members and attenders of Albany Friends Meeting are social activists but many are.  Also, the Meeting as a whole is very supportive of efforts to work for peace and social justice.
For example, during the Vietnam War we had a Peace Center in our Meeting House. During the 1980's our Meeting was very involved in the Central America Sanctuary movement. Members of our Meeting have participated in delegations to Central America, South Africa, and the Middle East seeking peace, justice and human rights.
Our Meeting welcomes lesbian and gay members into full participation in the Meeting, including marriage under the care of the Meeting. Members of our meeting are active in local organizations working for peace, women's equality, racial injustice, a peaceful solution to the Palestinian crisis, prison reform, an end to the death penalty.
Be patterns, be examples in all countries, places, islands, nations wherever you come; that your carriage and life may preach among all sorts of people, and to them; then you will come to walk cheerfully over the world, answering that of God in everyone; whereby in them you may be a blessing and make the witness of God in them to bless you. 
George Fox